Landscaping with Natives
PDF format documents listed below require Adobe Acrobat Reader

There are many documents and websites which deal with Landscaping with Natives. This site will try to point the reader to those which are appropriate for Northern Idaho and Eastern Washington. Please check back later for additional information.

Propagation of native plants
Native Plants Journal publishes both a journal and a propagation protocol database.
NRCS Pullman Plant Materials Center publications includes technical plant guides and propagation protocol articles about specific native plants.

Landscaping with Native Plants of the Idaho Panhandle published in 2011 by Kinnikinnick Native Plant Society has valuable information for North Idaho native plant growers. A list of bookstores which carry the book can be found on the Kinnikinnick NPS website
The second edition released in 2012 is available at Bookpeople in Moscow Idaho and also from the INPS White Pine chapter

Native Plant Species for this area

Valuable information is in the following documents
Native Plants of Northern Idaho for Landscaping and Restoration (WP).
Characteristics and Uses of Native Palouse Forbs in Landscaping (PPF/WSU).
More Palouse Forbs for Landscaping (PPF/WSU).
Landscaping with Native Plants of the Intermountain Region (BLM).
The Palouse Prairie - A Treasure upon your Land (multi-agency) 2-page 2.4 MB PDF
Dr. Love's Favorite Native Plants and Where to Buy Them 25-page 144 KB PDF
What do the Common Birds in our Gardens Eat? 4-page 166 KB PDF
Landscaping with Native Trees for Wildlife 2-page 316 KB PDF
Landscaping with Native Shrubs for Wildlife 1-page 304 KB PDF
Landscaping with Native Perennials for Wildlife 5-page 368 KB PDF


Sources for native plants

Jacie and Wayne Jensen own Thorn Creek Native Seed Farm and sell seed (packets and bulk) and seed mixes via their website as well as in some retail stores. Some of the retail stores will also be selling plants grown from their seed. More information can be found on their Products page. Check out their website which has information not only on the products available but also plant characteristics and growing requirements.

Near Troy Pleasant Hill Farm, run by Pat and Doug Mason, grows quality native plants primarily from seed from Thorn Creek Native Seed Farm. Their address is 1101 Anderson Rd, Troy, ID. Phone 208-877-1434.

Kendrick resident Thad Davis has a limited number of native plant species for sale, ready to plant out and reasonably priced according to size. Many are native to the Palouse and surrounding area, others are natives that can be grown locally in a xeriscape or dry location; some are difficult to come by. Delivery possible to LC/Valley and Moscow/Pullman area. Email Thad for queries or a species list and receive a prompt reply. send email.

In Potlatch and Moscow's Eastside Market area, Fiddler's Ridge Nursery, run by Theresa Greiner, is selling some native plants grown by Pleasant Hill Farms and seed from Thorn Creek Native Seed Farm. Phone 208-683-2387.

Further away but if you are heading north past Athol you might check out their website Cedar Mountain Perennials . They are selling some North Idaho natives. Phone 208-683-2387.

Many natives are available either by visiting Plants of the Wild in Tekoa Washington or via their online catalog. They will have plants grown from seed from Thorn Creek Native Seed Farm. Phone 509-284-2848

Also in Pomeroy, WA check out Willow Gulch Nursery. Contact Scott McGee send email or call 509-751-7556.

The Palouse-Clearwater Environmental Institute (PCEI) is the home of the John Crock Learning Nursery. The Nursery has been operating for ten years and is located at 1040 Rodeo Drive in Moscow. It offers a variety of native plants, maintaining about 30 species of native trees and shrubs. The Nursery is open to the public for retail sales during normal business hours. PCEI has served the Palouse region since 1986 "connecting people, place and community." For plant availability and other nursery information, please visit PCEI John Crock Nursery .

In addition please check on other Native Plant Society websites for landscaping with natives information and for the dates of native plant sales.

Idaho Native Plant Society
Washington Native Plant Society
Oregon Native Plant Society
Kinnikinnick Native Plant Society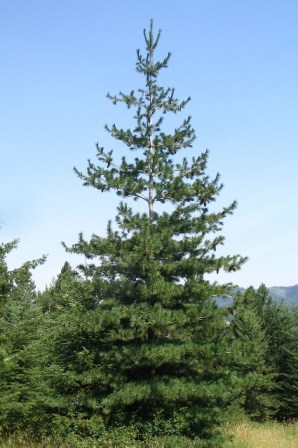 White Pine photo by Dr. Wm Hall