Current Events Calendar
The following is a list of events sponsored by White Pine Chapter or in collaboration with other organizations because our members have an interest. Please check with a contact if you have a specific question or wish to confirm event information.
For a list of events for other INPS chapters, please click on INPS.

Please mark your calendar with the dates of these meetings, presentations, and field trips. Additional information may also be communicated through chapter email notices, newsletters, and postcards and via public flyers and press releases. We look forward to seeing you on these educational excursions. For a printable short agenda current agenda.
PDF format documents listed below require Acrobat Reader

2018 Schedule

Upcoming Events

**************************************************************************************
Thursday, January 18, 2018 7:00 pm. INPS White Pine Chapter Meeting
Speaker: Pam Brunsfeld, retired Stillinger Herbarium curator and Systematic Botany instructor
Program: Wildflower Superbloom
Location: Location: 1912 Center, Great Room, 412 East Third St., Moscow, Idaho.

Pam will give a presentation on the "Wildflower Superbloom" that occurred in Southern California in late February and March 2017. Over 50 species covered the desert floor in Joshua Tree National Park and Anza Borrego State Park. Pam will share pictures of some of these species and landscape photos showing the extensive explosion of desert wildflowers she was privileged to see.

After five years of exceptional drought, desert landscapes across Southern California exploded with "superblooms" of wildflowers following the "just right" conditions including ample winter precipitation. According to local news reports, it was the most spectacular display some locations have seen in more than two decades.

Please post a flyer to help publicize this event.
Brunsfeld Flyer


**************************************************************************************
Thursday, February 15, 2018 7:00 pm. INPS White Pine Chapter Meeting
Speaker: Christine Parent
Program: Island Biogeographics and Plants

Christine Parent will present a program on how native plants conform to island biogeographics.

**************************************************************************************
Tuesday, February 27, 2018 1:00 pm to Thursday, March 1, 2018 noon. Rare Plant Conference, Boise, Idaho.
Contact chair Rose Lehman by email.

**************************************************************************************
Thursday, March 8, 2018 7:00 pm. INPS White Pine Chapter Meeting
Speaker: Tim Hatten

Program: Native bees, pollinators and a rare endemic plant (Silene spaldingii): Untangling a pollination-system mutualism within the Channeled Scablands Ecosystem

In this presentation Tim Hatten will present results from an ongoing study of the Spalding's catchfly (S. spaldingii) pollination system in the Channeled Scablands of eastern Washington. Results focus on: 1) the native bee community at Key Conservation Areas for S. spaldingii; 2) bee visitors to the plant and their foraging patterns; 3) canopy and flowering characteristics of the plant; 4) plant community characteristics of remnant grasslands where the plant occurs; and 5) influence of the plant community on bee visitation rates.

**************************************************************************************
Thursday, April 19, 2018 7:00 pm. INPS White Pine Chapter Meeting
Speaker: Juanita Lichthardt
Program: Two Idaho Rare Plants, Idaho Phlox (Phlox idahonis) and Water Howellia (Howellia aquatilis)

Juanita Lichthardt will discuss two of our favorite rare plants, Idaho phlox and water howellia. She will provide updates on survey results and how populations are doing.

**************************************************************************************
Friday, May 18, 2018 Time TBD. Setup for INPS White Pine Chapter Native Plant Sale

Saturday, May 19, 2018 INPS White Pine Chapter Native Plant Sale

Location: 1912 Center, Arts Room, 412 East Third St., Moscow, Idaho.

**************************************************************************************
Friday, June 29 to Monday, July 2, 2018. INPS 2018 Annual Meeting hosted by Calypso Chapter
Location: Bumblebee Campground between Wallace and Coeur d'Alene, 8 miles north of I-90 at Kingston exit (Exit 43)
For additional details see the September 2017 issue of Sage Notes.
Contact Derek Antonelli by email.

**************************************************************************************
Thursday, September 13, 2018 at 7:00 p.m. White Pine Chapter meeting
Speaker: Angela Sondenaa
Program: Nez Perce Tribe's Rare Plant and Conservation Work

Angela Sondenaa will present a program on the Nez Perce Tribe's rare plant and prairie conservation work. She will discuss the results of extensive inventories completed on the reservation, provide the results of reproductive ecology and pollinator research on specific species, explain the Tribe's prairie inventory and assessment, and update us on the conservation of Silene spaldingii in Joseph Creek.

**************************************************************************************
Past 2017 Events

**************************************************************************************
Tuesday, January 31, 2017, 7:00pm. INPS White Pine Chapter meeting, and program jointly sponsored with the Palouse Prairie Foundation
Speaker: James Riser, PhD, Palouse Conservation District Botanist
Program: "Palouse Prairie Remnants in Whitman County—Surveys of 2015 and 2016"
Location: 1912 Center, Great Room, 412 East Third St., Moscow, Idaho.


A chance to hear and see more about the Palouse Prairie of Washington's Whitman County! James has been involved with informative and productive surveys of these beautiful remnants, from the projects' beginnings in 2015. He will summarize the two seasons and discuss notable findings. Related future projects of Palouse Conservation District will be introduced. Last but not least, there will be lots of native plant pictures!

James' research includes the structures and strategies of milkweeds and orchids, and he has previously provided White Pine with programs and field trips highlighting these unique native plants. In addition to his work with Palouse Conservation District, James is teaching Systematic Botany at University of Idaho this semester.

Free: Small seed packets of various native plants will be available for you to select from, provided by White Pine Chapter members and friends!
**************************************************************************************
Thursday March 9, 7:00 pm: INPS White Pine Chapter Meeting
Speaker: Fred Rabe, University of Idaho Emeritus Professor of Biology
Program: "Diversity of Aquatic Ecosystem Types in Northern Idaho."
Location: 1912 Center, Great Room, 412 East Third St., Moscow, Idaho.


As Dr. Rabe points out, "There's an interest in identifying different kinds of birds, plants and other natural objects. Why not add ecosystem types to the list? Have you visited our largest water bodies? Do you know anything about types of high mountain lakes, vernal pools, streams, beaver ponds, or wetlands? Are you acquainted with our large river systems and watersheds to which they belong?"

Fred Rabe has led research in the unique features of our aquatic areas, sharing his enthusiasm and knowledge with us all. Some White Piners recall adventures at the floating mat bog of Hager Lake(!) More recently, Fred led a multi-organization study of conservation needs of plants and aquatic insects in Pinchot Marsh, the Little North Fork of the Clearwater, and Fish Lake. He has also given a presentation on that region's Research Natural Areas.

Fred will provide attendees with a list of northern Idaho aquatic ecosystem types, to enable us to follow along with the discussion of these habitats."

Free, at the meeting: Small seed packets of various native plants will be available for you to select from, provided by White Pine Chapter members and friends!


**************************************************************************************
Friday, May 19, 2017, 10:00 am to 4:00 pm: Setup for chapter PLANT SALE
Location: 1912 Center, Arts Room , 412 East Third St., Moscow, Idaho.

The Plant Sale is successful due to the hard work and good company of many folks. Coordinator Pamela Pavek emailed everyone March 25, asking us to pot up extra native plant seedlings that are showing up in our yards! There will also be plants from several vendors as in past years. She will be contacting those who have volunteered in the past to help with the sale, but please let her know if you want to help either Friday with setup or Saturday with the sale.

Contact Pamela by email

**************************************************************************************
Saturday, May 20, 2017, 9:00 am to 1:00 pm: White Pine Chapter 6th Annual PLANT SALE
Location: 1912 Center, Arts Room , 412 East Third St., Moscow, Idaho.

Plan to attend and bring a friend (or two). Your support of this chapter sale is crucial.

Please post a flyer to help publicize the sale.
2017 Plant Sale Flyer

2017 Plant Sale Availability List

**************************************************************************************
Saturday, June 3, 2017 All day Chapter Working Field Trip Canyon Breaks
Leader: Mike Hays
Weeding Center Ridge Silene Spaldingii site

The White Pine Chapter Board is planning a working field trip on June 3 with Mike Hays to pull Crupina in an area where there is a population of the rare and endangered Silene spaldingii. Our main destination will be Center Ridge, the ridge north of Mud Springs Ridge where we held one of the 2016 Annual Meeting Field Trips.

We plan to drive to Center Ridge from Grangeville. Our route will head south from Grangeville on Highway 95, then proceed onto Old Highway 95, and then follow Deer Creek Road south until the Center Ridge area (about 18 miles). Deer Creek Road is the same as 420 road in this area. There is then a short road off the 420 road to Center Ridge. From the parking area, there will be a hike of between 1.5 and 2 miles east on the 105 trail. The trail is narrow but mostly level, although there is a very minor climb at the start of the trail. We will walk slowly in the few places where the footing is 'sketchy'. This will bring us to the grassland on Center Ridge where we will do some weed pulling of Crupina and enjoy the numerous native plants found at the site. It is an easy weed to recognize and pull. Although according to Mike there isn't much Crupina within this Silene spaldingii population area yet, it is thick in the vicinity and encroachment into the Silene population increases every year. It is crucial to reduce the population before it sets seed. It may still be quite small so old jeans or knee pads are in order. Of course, there will be neat flora along the route and at the site for Mike to point out.

White Pine Chapter hasn't had a field trip to this location. As we get closer to the date we will know better what flora will be blooming but some possibilities are listed below. Grave Point with its population of Mimulus nanus (dwarf purple monkeyflower) and the tablelands with its incredible Fescue grasslands are nearby. There is a mysterious permanent fenced enclosure which is thick with forbs which are less evident in areas surrounding the fence. Mike is not sure of the history of why it's there but it will be worth a visit. Depending on which side trips we choose, some special plants we might see are Cypripedium montanum (mountain lady-slipper), Arabis cusickii (Cusick's rockcress), Penstemon payettensis (Payette penstemon), several paintbrushes, Lomatiums and additional Penstemons, Paeonia brownii (Brown's peony), Dicentra uniflora (longhorn steer's head), Linum perenne (wild flax), Primula cusickiana (Wallowa primrose). The local endemics Lomatium rollinsii (Rollins` lomatium), Penstemon elegantulus (lovely penstemon) and Halimolobos perplexa var. perplexa (puzzling halimolobos) may also be observed. Mike also mentioned the possibility of seeing Dracocephalum parviflorum(dragonhead mint or American dragonhead). Sounds exciting! If we drive the loop south to Cow Creek Saddle we know the flora there can be impressive and we would be two weeks earlier than the 2016 field trip so the blooms would be different.

Some of us will camp Friday June 2 and Saturday June 3 at Bear Den RV Park just outside Grangeville. They have RV sites for $32 a night, tent sites for $15 a night and a few cabins for $45 a night. Please check their website Bear Den RV Resort. Reservations would be required for RV sites and recommended for tent sites. The phone number is 208-983-0140. Reservations can be made online or by phone.

If a participant didn't want to camp, he or she would need to meet the group in Grangeville about 8:30 a.m. It is a bit over 2 hours from Moscow to Grangeville on Highway 95. Because this is a working field trip we are asking people to let us know as soon as possible if they are interested in participating and also to let us know if they might camp with the group.

Contact Nancy Miller by email for more information.

**************************************************************************************
Latah Soil and Water Conservation District has announced an opportunity to be a part of Palouse Prairie restoration in action on one of the largest remaining tracts of Palouse Prairie in Latah County. Please see the details below for a chance to see a spectacular prairie in bloom and make a difference at the same time!

When: Saturday, June 3, 2017, 11:00 am - 4:00 pm
What: Palouse Prairie Restoration Volunteer Work Day - Hand-pull yellow starthistle and other weeds on beautiful Gormsen Butte (south of Paradise Ridge, near Moscow, Idaho) Limited to 15 participants
Leader: Brenda Erhardt, Latah Soil and Water Conservation District
RSVP: Brenda.

Help with restoration of a beautiful Palouse Prairie remnant on Gormsen Butte (located south of Moscow, just south of Paradise Ridge) by hand-pulling patches of yellow starthistle and bachelor's button. The yellow starthistle plants will not be spiny yet, but gloves are still recommended.

We will walk approximately one mile to the work area and while the slope is steep at times, the reward is great. There should be a lot of wildflowers blooming making this work day a little less like work. The goal is to reduce/eradicate the patches of a few invasive weeds like yellow starthistle and bachelor button. Brenda will help with the initial identification of the invasive plants and will be happy to answer questions about the rest of the plant community as well as other ongoing restoration efforts on Gormsen Butte.

Please bring gloves, hand trowel, water, hat, sunscreen, and lunch/snacks. Depending on weather, the slope could be warm - or windy and chilly. Please bring a wind-resistant layer of clothing in case of cool weather. Sorry, no dogs or small children. Regarding "bathroom breaks," there are few trees, so participants might need to be innovative.

Meet to carpool in the parking lot by the big NRS warehouse at 1638 S. Blaine St., Moscow, Idaho (just south of Troy Hwy). This is the same parking lot where Fiddler's Ridge has their summer Moscow location. Low-clearance cars are okay.

The group is limited to 15 to minimize trampled plants and disturbed soil, so please RSVP to Brenda if you'd like to take part.
**************************************************************************************
June 10, 2017, Potlatch Restoration Project Field Trip, White Pine Chapter
Leaders: Trish Heekin, Conservation Planner, Latah Soil and Water Conservation District and Susan Firor, Principal Restoration Engineer, Terragraphics

The field trip will provide an opportunity to view several stream restoration projects in various stages in the Potlatch River watershed near Deary, Idaho. Participants can expect to see restoration treatments and many plants of open-canopy mixed conifer forest, riparian, and wetland ecosystems. This is your chance to see first-hand what Trish and Susan shared with us at their April 25th program.

Low-clearance vehicles will not be allowed (we'll be crossing a creek), but there will be plenty of room in high-clearance vehicles to take passengers. Carpooling is recommended to reduce the number of vehicles in the "caravan."

Meet at the Gritman Federal Parking Lot on 6th and Jefferson at 8:30 a.m. to arrange carpooling. Field trip will be from 8:30 t0 2:00 p.m.

Bring water, lunch, rain gear, waterproof boots, and insect repellent.


**************************************************************************************
Long weekend, July 14-17, 2017, INPS Annual Meeting, near Challis, ID, hosted by Loasa Chapter

INPS members are invited and encouraged to attend the 2017 INPS Annual Meeting. It will be hosted by the Loasa Chapter of Idaho Native Plant Society (INPS). INPS members and guests will join together at the Living Waters Ranch located four miles west of Challis, Idaho in Custer County. Possible field trip destinations include Railroad Ridge, Bay Horse Lake, Chilly Slough, Malm Gulch, Road Creek and Herd Creek.

For more information see the March issue of Sage Notes.

For up-to-date information as it becomes available see the INPS Annual Meeting webpage
Loasa contact: Bill Bridges.
Living Waters Ranch website: www.livingwatersranch.org

**************************************************************************************
Saturday, August 12, 2017, 10:00am, INPS White Pine Chapter Field Trip
** cancelled due to smoke**

Giant Cedar Tree and Morris Creek/Perkins Cedar Grove (both sites are near Elk River, Idaho).
Leader: Pam Brunsfeld, retired Unversity of Idaho Systematic Botany Instructor and retired Curator of UI Stillinger Herbarium.

Meet to carpool at 10:00am in Moscow, Idaho in parking lot by the NRS warehouse at 1638 S. Blaine St (just south of Troy Hwy). Park in the northeast corner and/or avoid any areas in use by NRS and Fiddler's Ridge Nursery. (Participants from north, south or east of Moscow can meet us in Deary at 10:45am, at the Exxon gas station & store at east edge of town. Use the large gravel parking lot.)

Please join us on this Saturday field trip to enjoy venerable western redcedars (Thuja plicata) and their habitats at the Morris Creek/Perkins Cedar Grove and at the Giant Cedar near Elk River, Idaho. Morris Creek/Perkins Grove is ten miles northwest of the town of Elk River. A gentle 0.7 mile loop trail wanders through the 90-acre stand of old-growth cedar trees, which are estimated to be 400-500 years old. After lunch there, we will travel to view the "Giant Cedar", the largest tree in North America east of the Cascade-Sierra crest. The Giant Cedar trail is wheelchair accessible with a simple restroom at the parking lot. The tree, 18 feet in diameter and 177 feet tall is thought to be around 3000 years old.

The trip will be completed with wonderful huckleberry ice cream at the Elk River Lodge. We expect to return to Moscow by 6 pm.

Bring plenty of water, a lunch, sunscreen, insect repellent, hat, field guides etc.


**************************************************************************************
Thursday October 19, 2017 7:00 pm: INPS White Pine Chapter Meeting
Speakers: Nick Norton, Conservation Projects Manager, Palouse Land Trust
Program: "Palouse Land Trust—Roles and projects, including the Dave Skinner Ecological Preserve"
Location: 1912 Center, Great Room, 412 East Third St., Moscow, Idaho.

Nick Norton will introduce us to the work of the Palouse Land Trust, including recent work south of Moscow on Paradise Ridge and Gormsen Butte. In collaboration with local, state, and federal partners, the Trust works to protect some of the best remaining Palouse Prairie habitat and reintroduce Spalding's catchfly (Silene spaldingii), a threatened native plant species. Towards this, with the help of major private donors and grant funding, the Palouse Land Trust purchased and dedicated the 62-acre Dave Skinner Ecological Preserve on Paradise Ridge. Nick will be discussing a vision for ongoing management of this important resource and the potential role of local community partners.

**************************************************************************************
Thursday, November 9, 2017
5:30 pm. INPS White Pine Chapter Annual Meeting with pizza
Location: 1912 Center, Friendship Hall (northeast corner),

Renew friendships, meet new friends, vote on slate of officers, learn about opportunities in Idaho Native Plant Society, and share your ideas for 2018 activities.

And 7:00 pm. INPS White Pine Chapter Meeting
Speaker: Bertie Weddell, Specialist in Natural Resource Conservation
Program: "Effects of Climate Change on Native and Introduced Plants"
Location: 1912 Center, Great Room, 412 East Third St., Moscow, Idaho.

As the Earth continues to warm, the reproduction, survival, and distribution of plants will be affected. Different species will respond differently to these changes, resulting in new plant assemblages. Native and introduced species are likely to differ in how they react to the changing climate. Bertie Weddell, a specialist in natural resource conservation and faculty member in the Washington State University Department of Horticulture, will discuss current projections of how these changes will affect native grassland ecosystems of the Palouse.

**************************************************************************************
Monday, December 4, 2017 7:00 pm. INPS White Pine Chapter Meeting
Speaker: Charles Swift, ornithologist, ecologist, and information technology specialist
Program: "Citizen Science, including iNaturalist, eBird and other programs"
Location: 1912 Center, Great Room, 412 East Third St., Moscow, Idaho.

Opportunities abound for the amateur naturalist to contribute to science. Citizen science is not a new idea, but recent projects, such as eBird and iNaturalist, have made use of technological advances to provide powerful new tools. Connecting beginning naturalists to experts, they provide opportunities for education and enhanced enjoyment of nature. Data from these projects informs studies of global biodiversity and can also be leveraged for locally focused projects. This program will briefly review the history of citizen science, providing useful tips on what's available, how to get started, and how organizations can benefit from these tools. Charles Swift, information technology specialist and environmentalist, has been an enthusiastic promoter of citizen science since his teens (the Christmas Bird Count), and also has more recent involvement in eBird and iNaturalist.

More information on eBird and iNaturalist:
- iNaturalist quick start guide
- eBird quick start guide
- iNaturalist observations from Idler's Rest Preserve
- Pictorial guide to common birds of the Palouse Region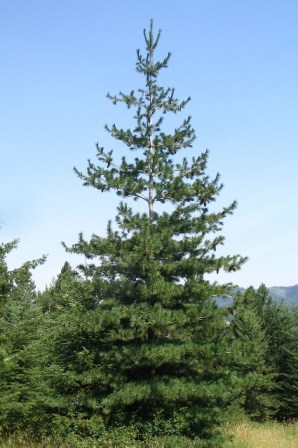 White Pine photo by Dr. Wm Hall