2016 Archive
The following is a list of events sponsored by White Pine Chapter or in collaboration with other organizations because our members have an interest.
** Tuesday, January 19, 2016, 7:00pm. White Pine Chapter Meeting
Speaker: Dennis Ferguson, PhD, Research Forester (retired) with the Forest Service Rocky Mountain Research Station
Subject: Bracken Fern: The Species and Much More

This presentation will include the biology of bracken fern, as well as a historical perspective of the species and its uses. Part of the story of this fascinating species will be information on consumption of bracken fern by humans and animals, as well as allelopathy. Research on bracken fern in northern Idaho and the important role it plays in the Grand Fir Mosaic will also be discussed.

** Tuesday, February 9, 2016, 7:00pm. White Pine Chapter Meeting
Speaker: Pamela Brunsfeld, former Curator of University of Idaho Stillinger Herbarium, and Systematic Botany Instructor, University of Idaho
Subject: A Botany Lesson: The Rose Family- its Subfamilies and Corresponding Fruits

This program will include the Rose Family (Rosaceae) with tips on identifying all of the Rosaceae subfamilies. If you have heard Pam speak before, you will know it will be an interesting, informative, lively, and fun program. We may even have the opportunity to taste some of those rose fruits.
We would appreciate your help publicizing the event if you can post the following flyer: Pam Brunsfeld: the Rose Family .
** Wednesday-Thursday, February 10-11, 2016, Rare Plant Conference, Boise, Idaho
Conference details will be posted soon on the Idaho Native Plant Society Website Rare Plant Conference
Contact information will be on the website.

** Saturday, March 19, 2016, 9:00am, White Pine Chapter Field Trip to Nisqually John HMU and Wawawai County Park

Leaders: Terry Gray, assisted by Judy Ferguson

We will head to Wawawai County Park on the Snake River, stopping briefly along the way for early native plants in bloom, arriving by 10:00am for a restroom break. We'll then proceed up the Snake River, probably stopping at Granite Point. The main destination is Nisqually John Habitat Management Unit (Army Corps of Engineers), where we can walk along the creek valley, and also take a trail up the hillsides. Around 1:00, we'll be back at Wawawai County Park, where there are picnic table shelters. After lunch, a gentle trail leads along slopes and past a wetland.

The trip will offer views of native plants (a few in bloom), examples of common threats to riparian habitats, sweeping canyon views, and sights and sounds of birds! Bring binoculars, snacks and lunch, water, sunscreen, and appropriate jacket. Long pants are recommended. Wear suitable shoes for hiking. One stretch of trail may be very muddy.

Roundtrip miles: about 70.

For a map of Nisqually John Canyon and Wawawai Rd on the Snake River area: Nisqually John Canyon on the Snake. Move the map down slightly to see Wawawai County Park on the Snake as well.

** Tuesday, March 29, 2016, 7:00pm. White Pine Chapter Meeting
Speaker: Kristen Pekas, Botanist, Idaho Natural Heritage Program, Idaho Department of Fish and Game
Subject: "A Day in the Life of a Botanist"

Kristen Pekas is a field botanist with the Idaho Natural Heritage Program. This presentation will cover the process of planning and implementing botanical research and give an overview of rare plant surveys and monitoring projects conducted in northern Idaho. This will be an interesting program for all who love native plants.

To print and post a poster publicizing this event please click on A Day in the Life of a Botanist Flyer
** Thursday, April 14, 2016, 7:00pm: White Pine Chapter meeting ** cancelled **

Speaker: Rob Taylor, Ecologist, The Nature Conservancy, Zumwalt Prairie Preserve
Subject: Native Plants in the Zumwalt Prairie
Rob Taylor, Ecologist for the Nature Conservancy, will present a program on the beautiful Zumwalt Prairie Preserve in northeast Oregon. This program will include information on results from ongoing research projects.

** Thursday, May 5, 2016, 7:00pm: White Pine Chapter meeting

Speaker: Derek Antonelli, Calypso Chapter president; chair, North Idaho Rare Plant Working Group, and Master Naturalist
Subject: Rare Plant Conservation in North Idaho

Learn how a plant's rarity is determined, and how it is added to Idaho's Rare Plant List. Derek will explain how various land management agencies use the Rare Plant List to protect these plants as the agencies move forward with their projects. We will also be treated to a photo gallery of some North Idaho rare plants.

We would appreciate your help publicizing the event if you can post the following flyer: Derek Antonelli: Rare Plant Conservation .
** Thursday, May 12, 2016, 6 p.m. Plant Sale Label Making get together
Contact Pamela Pavek for details if you can help.

** Saturday, May 14, 2016, 9:45 a.m. White Pine invited to Calypso Chapter trip
Location: Wildlife Habitat Nursery in Princeton and Plants of the Wild in Tekoa

Calypso members will meet us in Potlatch at 10:15 a.m. at the Scenic Six Park on Highway 6. There is free day use parking, and we can also park along the road if need be. We will then caravan to the Wildlife Habitat Nursery.

White Pine folks can meet at 9:45am in the Rosauers (Moscow) parking lot near the highway, in order to carpool to Potlatch. Bring a sack lunch & water, etc.

Those who wish to may continue with Calypso to the Plants of the Wild nursery. When arranging carpooling make sure those who want to go to Plants of the Wild ride together.
** Monday, May 16, 2016, 7 p.m. Annual Meeting organizational meeting



** Wednesday, May 18, 2016, 6 p.m. White Pine members invited to Dave Skinner memorial
Jo Bohna is inviting us to the memorial for Dave Skinner at the 1912 Center Great Room May 18th. Potluck is from 6:00pm til 7:00, then a sharing of memories til 8:30pm.

Pamela Pavek has kindly offered to put photos of Dave into a slide show. Please send them to her at plspavek at gmail.com. White Pine-INPS is grateful for a long association with Dave, and pleased to be invited to his memorial.

** Friday, May 20, 2016, 1:00 to 5:00 p.m. White Pine Chapter Plant Sale setup.

** Friday, May 20, 2016, 5:00 to 6:00 p.m. Current chapter members only Plant Sale

** Saturday, May 21, 2016, 9-12 a.m. White Pine Chapter Plant Sale



If you are donating plants, please contact Pamela Pavek by May 11 with the list of species and the number you expect to donate.

We will again have hundreds of plants to choose from. Please bring a box. Cash or checks accepted.

The sale will mostly feature plants from this area. There will be Palouse Prairie and local woodland natives, with a mix of perennial forbs and grasses, annuals, shrubs and trees. Find plants for each of the special areas of your landscape: sun, shade, moist, rock garden or xeric conditions. Informative signs and botanical gardeners' expertise will aid your selections. In addition to their inherent beauty, many plants are especially important to pollinating insects, birds, and other wildlife—they provide nectar, pollen, fruit, seed, nesting material, cover and roosting sites.

This is an important fundraising event for the chapter, enabling us to provide grants for native plant projects.

2016 Plant Sale Availability list

To print and post a poster publicizing this event please click on 2016 Native Plant Sale Poster

** Long weekend, June 10-13, 2016, Idaho Native Plant Society Annual Meeting. Grangeville, Idaho
Hosted by White Pine Chapter --- your help will be needed!

Annual membership meeting and dinner will be Saturday June 11, 2016 in the evening.

Full description (and registration form) will be in March 2016 Sage Notes and is currently on the INPS Website 2016 INPS Annual Meeting. Please checkout the description, schedule of events, field trips and reserve your camping spot and field trip options. The online registration form is on the website. Plan to attend!

** Sunday, September 25, 2016, 1:00pm-3:30pm, Tour of University of Idaho's main Arboretum & Botanical Garden
&nbsp&nbsp&nbsp sponsored by INPS White Pine Chapter
Guide: Paul Warnick, Horticulturist, UI Arboretums & Botanical Garden
Location: 1200 W. Palouse River Dr., Moscow, Idaho, park at the Red Barn lot

Paul is an experienced tour guide, noted for his friendliness and 16 years of developing the Botanical Garden, as well as ongoing management of both the main Arboretum and Shattuck Arboretum. UI's arboretum complex and botanical gardens are recognized as a major feature of the Northwest, and are open to the public at no charge.

We are hoping for early fall color throughout the trees, shrubs, forbs and grasses! Western North America is well represented, with a special section for Idaho native trees and shrubs. (Shrubs were planted by White Pine INPS in the 1990s) A special treat will be seeing the Ray Boyd aspen, planted several years ago. Ray was one of the founders of White Pine chapter, and he arranged for the addition of this frequently colorful specimen, brought in from SE Idaho mountains.


** Wednesday, October 12, 2016. 6:00 pm. Native Plant Seed Propagation Workshop

Presenter: Pamela Pavek, USDA-NRCS

Pamela will give a short presentation about native seed biology, including seed dormancy, stratification and other propagation requirements, storage and viability, then provide a hands-on planting demonstration. Participants are encouraged to bring seed from their existing plantings to plant or trade. The first 40 people to reply to Jo Bohna will be provided with a tray and soil for planting during the workshop. This event is sponsored by the Moscow Garden Club and co-sponsored by the Palouse Prairie Foundation and the Idaho Native Plant Society - White Pine Chapter.
** Wednesday, December 7, 2016. 7:00 pm. Chapter Annual Meeting and Christmas Party/Seed Exchange


The program will focus on socializing and on the great little packages that native seeds provide to our world. We are asking all members and friends who grow Idaho native seeds in their own gardens, to collect and label those seeds and bring them to this seed exchange. If you want a few seeds, come and see what is available. If you have seeds to share, please bring them.

This exchange is just for native seeds. Please do NOT bring seeds of horticultural varieties or seeds you may have gotten in a wildflower mix (which are often eastern U.S. seeds).

Please be sure your seeds are
Dry (damp seeds will spoil)
Weed free
Free of chaff
Free of insects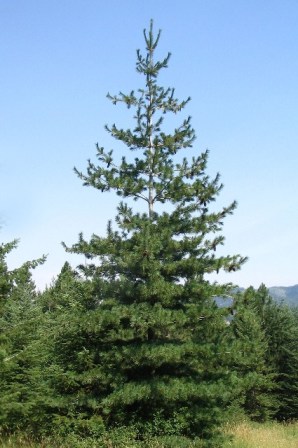 White Pine photo by Dr. Wm Hall